Discover the new
Terminal 6
Discover
the new
Terminal 6
JFK Millennium Partners is building a world class, 1.2 million square foot Terminal 6 which will occupy the site of the former Terminal 6 and Terminal 7 when completed. This $4.2 billion redevelopment will transform the guest experience at Terminal 6 while offering numerous opportunities for minority, women-owned (MWBE), service-disabled, veteran-owned (SDVOB) and local business enterprises (LBEs).
$4.2 Billion Investment
Exceeding 30% MWBE/LBE Participation Goal
10 aircraft Gates
Sustainable & Innovative Technology
First gates open in 2026
Meet our CEO
Helena Williams
Welcome to JFK Millennium Partners and Terminal 6! Together with our design-builder Aecom Hunt and our investment partners Vantage Airport Group, American Triple I, RXR Realty, and JetBlue – we're the team building a world-class, $4.2 billion Terminal that will serve millions of air travelers in the years to come. With the first gates opening in 2026, our boutique international Terminal 6 will be sustainable by design, digital first and full of the latest passenger conveniences and amenities.
At JFK Millennium Partners, we're not just focused on creating an extraordinary travel experience. We are committed to surpassing key supplier diversity participation goals that include minority, women, and local firms for this monumental project. We want to ensure that the vibrant Queens community benefits from the economic impact of this groundbreaking redevelopment of JFK.
As we complete our first year in business, I'm thrilled to report that JMP is already well on its way towards achieving our goals. There is so much more to look forward to—check back often for the latest updates and opportunities. Become part of our Terminal 6 journey!
Helena Williams
CEO, JFK Millennium Partners,
a member of vantage airport group
Credit: Metropolitan Airport News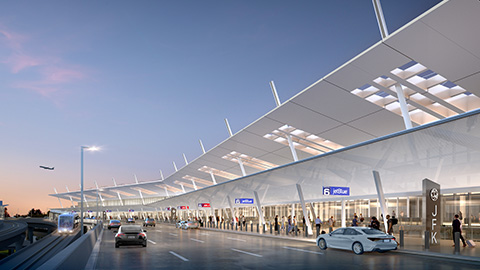 Work with JMP
Help Us Build the Next World Class Terminal.
Join the Contracting Opportunities mailing list
Join the Concession Opportunities mailing list
Join the Terminal 6 Art Program mailing list
Our commitment to the
Queens community
The JFK Terminal 6 project goes far beyond steel and construction. Through every facet of this $4.2 billion redevelopment, our team operates through a social equity lens, ensuring fair and just distribution of resources, opportunities, and benefits within the surrounding community — regardless of individuals' backgrounds, identities, or circumstances. Terminal 6 is committed to meeting or exceeding key supplier diversity goals for this project, awarding a minimum of $840 million of contracts to Minority and women-owned business enterprises, better known as MWBEs and WBEs. We work hand-in-hand with our local Queens community – supporting businesses with project certification, providing technical support, or directing them to the right resources to successfully bid on Terminal 6 contracts. We aim to ensure that our community receives the positive economic benefits of this unprecedented redevelopment.
BROWSE CURRENT OPPORTUNITIES
Get certified
Obtain loans
Benefit
from this unprecedented investment
About

JFK Millennium Partners

JFK Millennium Partners (JMP) is a private consortium composed of Vantage Airport Group, American Triple I, RXR Realty, and JetBlue. JMP offers a proven track record of successful, innovative projects at some of the most challenging and exciting airport and infrastructure projects around the world. We are delighted to offer our global expertise to develop the world class terminal that JFK travelers deserve.

About

Vantage Airport Group

Vantage Airport Group is an industry-leading developer, investor, and manager of airports and terminals around the globe, known for projects including the new Terminal B at LaGuardia Airport. In its 25-year history, Vantage has worked with more than 30 airports, making them more efficient, profitable, sustainable, and connected to the communities they serve.

About

American Triple I

American Triple I Partners (ATI) is a New York-based investor, owner, developer, and manager of infrastructure assets and infrastructure-focused companies. The 100% minority-owned and managed firm is committed to serving our investor partners and communities by deploying capital into much needed infrastructure projects and businesses throughout the United States.

About

RXR Realty

RXR Realty (RXR) is a New York-based vertically integrated private real estate company with deep experience in public-private development and expertise in investment management, property management, development, design, construction, leasing, and financing.

About

JetBlue

JetBlue is proud to be New York's Hometown Airline® and the only major airline headquartered in New York. New Terminal 6 will seamlessly integrate with Terminal 5, building on JetBlue's award-winning customer experience while expanding the airline's footprint father into the north side of the airport. It will help secure JetBlue's long-term future at JFK with opportunities for new gates and offer partner airlines the ability to co-locate with JetBlue to improve connectivity for customers.
Upcoming
Events
Browse upcoming and prior community events related to the JFK Terminal 6 project.
View More
Terminal 6
Community Art Program
Art is an essential part of the Terminal 6 experience, as we aim to inspire and captivate both local audiences and visitors to the New York City area. JFK Millennium Partners' Terminal 6 Community Art Program will feature rotating display case opportunities for up to 11 pieces of artwork, with a focus on local artists, once the Terminal is operational. More details to follow, including an informational event to be held in 2024 for all interested and aspiring artists!