Rebuilding our home in queens
A collaborative initiative of Terminal 4's operator JFKIAT, the Port Authority of New York and New Jersey, and Delta Air Lines.
Delta Air Lines is the U.S. global airline leader in safety, innovation, reliability and customer experience. We're proud to be named the best airline in customer satisfaction by JD Power, and we're continuing to deliver exceptional value to New Yorkers by investing $1.5B to update our terminal in John F. Kennedy International Airport (JFK).
JFK International Air Terminal, LLC. (JFKIAT) has been the developer and operator of Terminal 4 at JFK Airport since 1997. As the expansion of Terminal 4 moves forward, JFKIAT will continue to partner with Delta, its airline partners, and the Port Authority of New York and New Jersey to carry forward safety practices, invest in technology, drive innovation, and bring best-in-class customer experience to the next level.
Building a world class Airport
With the JFK Terminal 4 Phase 2.5 redevelopment program, Delta and JFKIAT are developing a fresh and modern terminal to deliver an elevated airport experience to New York travelers. The project will increase the capacity of the airport by building ten new aircraft parking positions, adding an additional domestic baggage claim carousel, and transitioning all operations into Terminal 4—making JFK travel more convenient for all Delta customers.
To continue building a seamless customer experience, Phase 2.5 includes an updated check-in hall, new gate finishes, added curb drop-off space, additional digital signage, restroom modernizations, continued technology enhancements, and the transformation of regional jet gate areas to accommodate mainline aircraft. To ensure the highest level of customer service and minimal disruptions during this renovation, the enhanced Terminal 4 will be completed in multiple phases.
New aircraft parking positions to better connect you with the world.
New gate areas, seating, and space to relax to make your airport experience more comfortable.
Estimated completion by summer 2023 to bring an updated travel experience at Terminal 4.
Aimed at promoting educational, social, and professional success, JFKIAT's 4GOOD program consists of two components: Community (Corporate Philanthropy) and Sustainability (Environment). Corporate resources include financial contributions, charitable giving, employee volunteering and community outreach. Since JFKIAT launched 4GOOD in 2016, the company has distributed more than $150,000 annually in funds for charities, organized events at Terminal 4, and worked closely with several organizations in Queens. JFKIAT recently worked with a number of the partners to raise $230,000 to aid the Queens community as it continues to grapple with the economic impacts of the COVID-19 pandemic. JFKIAT has a long track record of supporting MWBE and ACDBE participation in its operations of Terminal 4.
Delta will replicate the successful delivery model used for our $3.9 billion new terminal program at LaGuardia. Delta serves as General Contractor, having direct contracts and oversight with all construction contractors. Delta will be supported in the management of the JFK construction program by professional construction firms such as STV, Turner Construction, Group PMX, McKissack, NYCO and multiple other firms serving as an extension of Delta's construction management team.
Contracting opportunities
Delta Air Lines employs over 75,000 team members globally. Our culture is rooted in a shared commitment to living our values – Honesty, Integrity, Respect, Perseverance and Servant Leadership – every day, in everything we do.
Wondering about our contracting opportunities? Attend one of our upcoming events.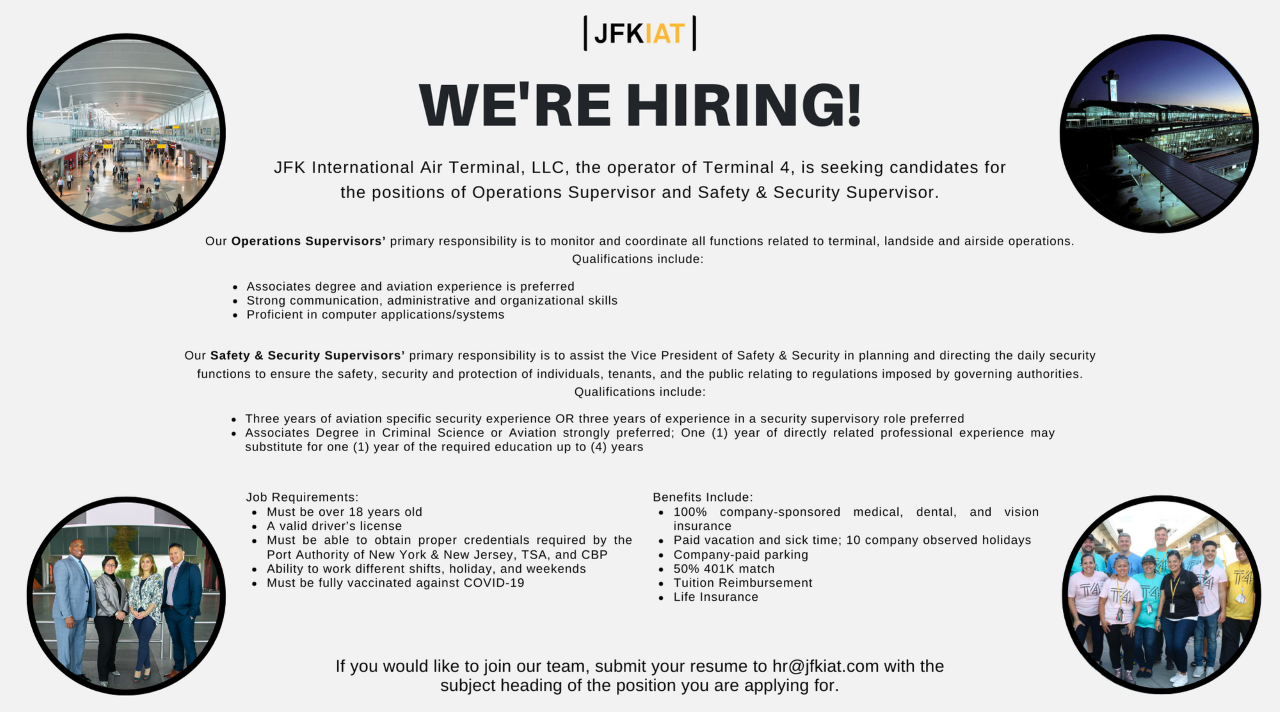 JFKIAT has nine open positions available Terminal 4! These are full time positions, and the hiring team is giving preference to residents of the communities surrounding the airport!
Email your resume to : [email protected] !
D'Anna Bradley
DACK Consulting Solutions / Delta Air Lines
Project Executive
MWBE Program | Community Outreach
Email: [email protected]
Office: 646.945.0174
Jamal McQuay
DACK Consulting Solutions / Delta Air Lines
MWBE Compliance and Outreach Officer
MWBE Program | Community Outreach
Email: [email protected]
Office: 646.945.0174